---
TYNE BUILT SHIPS
A history of Tyne shipbuilders and the ships that they built
Above: Select the required shipbuilder by using initial letter of the surname eg: Armstrong, Palmer or Readhead.
KEY BELOW: D / H / P (D means basic dimensions are shown; H means a history is given; P means one or more photographs are available)



Shipbuilder: Edwards Brothers, Howdon (1894 - 1897)
Shipbuilder: Edwards Brothers, North Shields (1893 - 1899)
In 1893, James & George Edwards, sons of HS Edwards at Howdon, acquired the site previously occupied by Hepple at North Shields.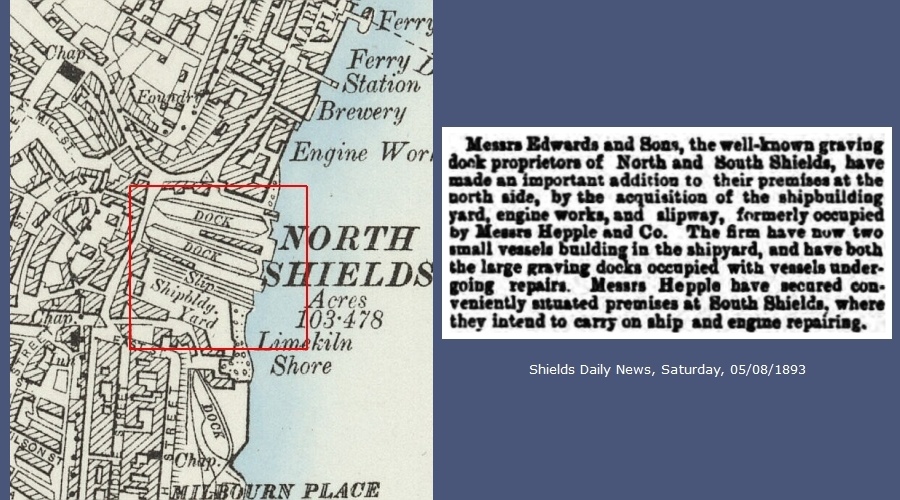 &nbsp &nbsp Above map, dated 1894, is copyright of the Ordnace Survey

They built mainly fishing vessels under the name of Edwards Brothers and continued the Hepple ship and engine numbering series starting with 483. Although the main yard was at North Shields they also used the Howdon yard sporadically, presumably as an overflow facility when their own berths were full. On 1st September 1899, the business, along with that of HS Edwards was amalgamated with Smith's Dock Co Ltd (formerly T & W Smith).


| Yd No | Year | Ship Name | D / H / P |
| --- | --- | --- | --- |
| 491 | 1894 | Kate Thompson | D / H |
| 511 | 1895 | D Diamantidis | D / H |
| 531 | 1896 | Ashton | D / H |
| 532 | 1896 | Barnsley | D / H |
| 533 | 1896 | Chester | D / H |
| 534 | 1896 | Derby | D / H / P |
| 535 | 1896 | Tynemouth | D / H |
| 536 | 1897 | City of London | D / H / P |
| 537 | 1897 | City of Lincoln | D / H |
| 543 | 1897 | Swallow | D / H / P |
| 544 | 1897 | Swift | D / H / P |
| 545 | 1897 | Martin | D / H |
| 546 | 1897 | Prome | D / H |
| 547 | 1897 | Hawk | D / H |
| 560 | 1897 | Vanda | D / H |
| 561 | 1897 | Alba | D / H |
| ----- | ------ | ------------------------- | ---------- |