---
TYNE BUILT SHIPS
A history of Tyne shipbuilders and the ships that they built
History of Shipbuilder: Harry S Edwards, South Shields & Howdon

Harry S Edwards was a prominent Tyneside shipowner & shiprepairer with extensive repair facilities at High Docks at South Shields. In 1875 he was joined in partnership by his two eldest sons, James & George.

In 1883 as HS Edwards Sons & Craig they acquired land at Howdon from the Duke of Northumberland where he laid out a yard for small vessels, with a view to later expansion.

In 1893 James & George set up on their own as Edwards Brothers in the former Hepple Yard at North Shields, where they continued the Hepple ship & engine numbering system starting with 483.

The last launch under the Edwards Shipbuilding Co name was the second Manchester Ship Canal Pontoon in August of 1894. However Edwards Brothers continued to use the Howdon yard, from the end of 1894 to 1897, building a further 10 ships, mostly trawlers. Presumably this was overflow from their main yard at North Shields.

In 1898, after HS Edwards' death, the yard passed to the Northumberland Shipbuilding Co.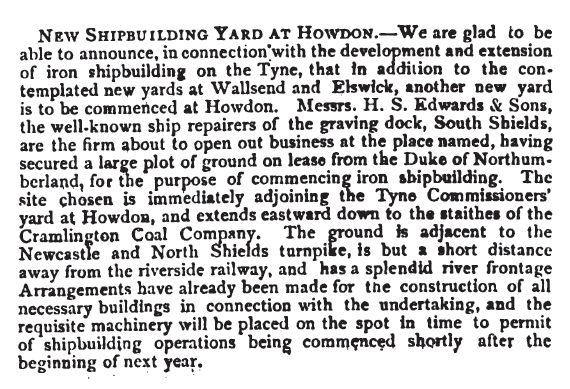 Marine Engineer, 1883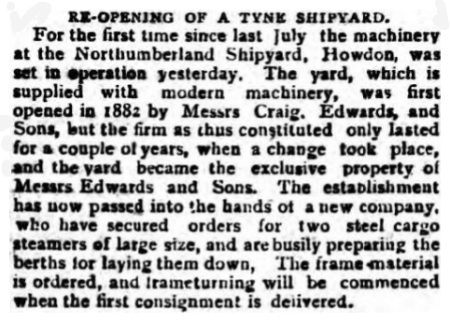 Shields Daily Gazette, Thursday, 15/11/1888