---
TYNE BUILT SHIPS
A history of Tyne shipbuilders and the ships that they built
Above: Select the required shipbuilder by using initial letter of the surname eg: Armstrong, Palmer or Readhead.
KEY BELOW: D / H / P (D means basic dimensions are shown; H means a history is given; P means one or more photographs are available)
Below: (TT) indicates that the link will open up in a new window belonging to our sister web site Tyne Tugs




Shipbuilder: Renwick & Dalgliesh, Hebburn (1918 - 1931)

The Newcastle shipowners Renwick & Dalgliesh laid out a new yard at Hebburn in 1918. The yard put up for sale in 1928 and was eventually purchased by National Shipbuilders Security for closure and dismantling in 1931.
There had been no ships built at this yard in the 12 years that it existed.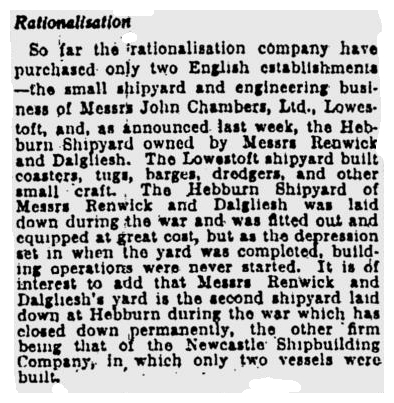 The Glasgow Herald Jun 9th, 1931



| Yd No | Year | Ship Name | D / H / P |
| --- | --- | --- | --- |