---
TYNE BUILT SHIPS
A history of Tyne shipbuilders and the ships that they built
Above: Select the required shipbuilder by using initial letter of the surname eg: Armstrong, Palmer or Readhead.
KEY BELOW: D / H / P (D means basic dimensions are shown; H means a history is given; P means one or more photographs are available)
Below: (TT) indicates that the link will open up in a new window belonging to our sister web site Tyne Tugs



Shipbuilder: Schlesinger, Davis & Co, Wallsend (1865 - 1893)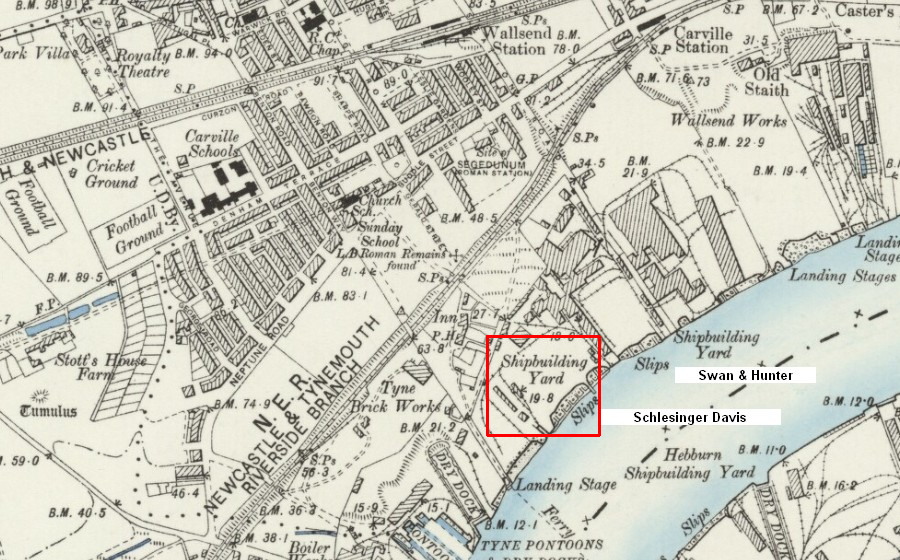 Above map shows the Schlesinger yard to the west of CS Swan & Hunter. Map dated 1895 is copyright of Ordnance Survey

Charles Albert Schlesinger was a former apprentice at Robert Stephenson's works at Newcastle and Frederick Blake Davis had trained at Charles Mitchell's yard at Low Walker. Davis had also worked for Mitchell in India for four years before he partnered with Schlesinger.

They opened a yard together in Wallsend in 1863. Two sailing ships were launched before their first steamer LLANDAFF was launched in 1865. The yard remained in operation for over 30 years and produced a total of 167 vessels including, in 1868, the KIELDER CASTLE, the first Schlesinger Davies vessel of over 1000 tons.

In 1880 Davis bought out Schlesinger due to Schlesinger's increasing health issues. However, in the early 1890s the company started to fail as ship construction declined across the whole country and the yard finally closed in 1893.

In 1897 the yard was bought by CS Swan & Hunter for the construction of floating dry docks.