---
TYNE BUILT SHIPS
A history of Tyne shipbuilders and the ships that they built
Above: Select the required shipbuilder by using initial letter of the surname eg: Armstrong, Palmer or Readhead.
KEY BELOW: D / H / P (D means basic dimensions are shown; H means a history is given; P means one or more photographs are available)


Shipbuilder: Wood, Skinner & Co Ltd, Bill Quay (1885 - 1925)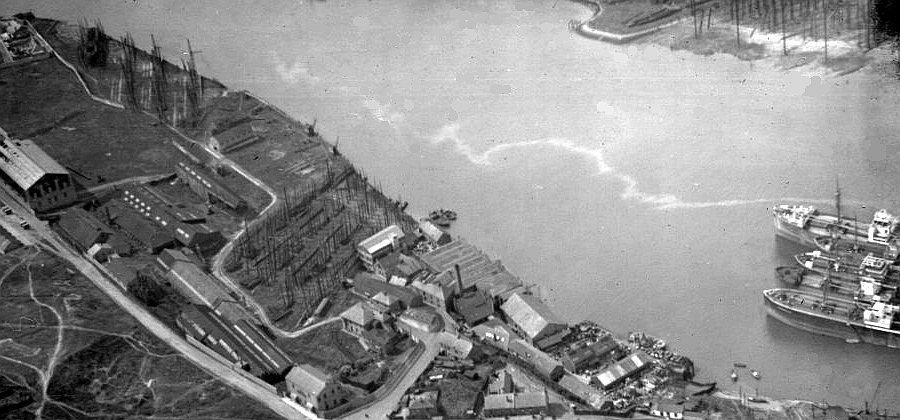 Above photo is of the Wood Skinner Yard in the early 1930s
Wood, Skinner & Co built ships in Bill Quay, on the eastern edge of Gateshead, for forty years. The original partners were William Wood, of Jesmond, and James Skinner, of South Shields. James Skinner had experience of shipbuilding at the former Coutts yard at Low walker and later as manager for Andrew Leslie at Hebburn. William Wood had been cashier at the yard of Schlesinger, Davis next to CS Swan & Hunter at Wallsend.

In 1883 the old Bottle Works site was cleared, with the Bottle House Chapel of 1839 being pulled down and the empty Union Chemical Works vanished. The stocks and slipways were then built on the site. The yard had a river frontage of 380 feet and six slipways by 1885. In the early 1920s the number of slipways was increased to 8 and the largest of these could take a tramp ship of 500ft in length. However, they did not build the ships' engines, they bought them in from a variety of local companies.

At first the yard built coasters and short-sea traders, either in iron or in steel, with many of them of the quarter-deck or well-deck designs then popular. Scandinavian contracts formed a major part of the yard output for 20 years. The most important local customer was the Burnett Steamship Co Ltd of Newcastle that ordered some 30 vessels from the yard over the years.

Until 1925, when the yard failed financially, Wood-Skinners had built more than 230 ships at Bill Quay. The partially completed hull of their last ship, a collier, can be seen at the top left corner of the photo and it remained there to rust away until finally broken up in the late 1930s.

The yard was acquired by National Shipbuilders Security Ltd in 1939 and was sold at auction in April that year.