---
TYNE BUILT SHIPS
A history of Tyne shipbuilders and the ships that they built
Above: Select the required shipbuilder by using initial letter of the surname eg: Armstrong, Palmer or Readhead.
KEY BELOW: D / H / P (D means basic dimensions are shown; H means a history is given; P means one or more photographs are available)



Shipbuilder: Sir WG Armstrong, Mitchell & Co Ltd, Elswick (1885 - 1897)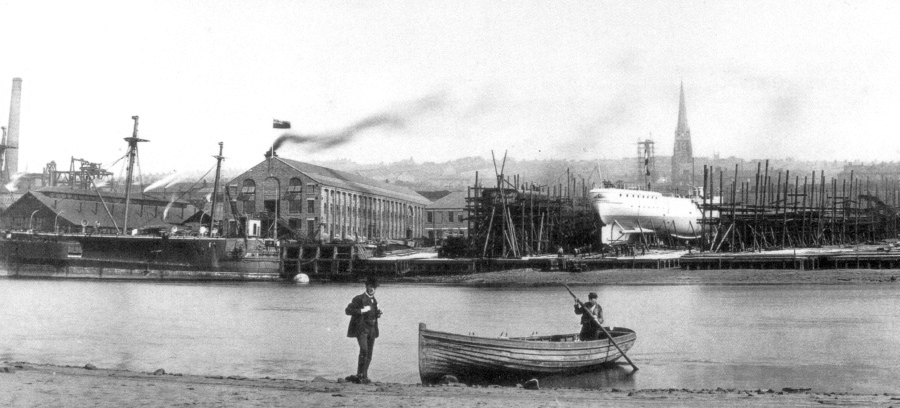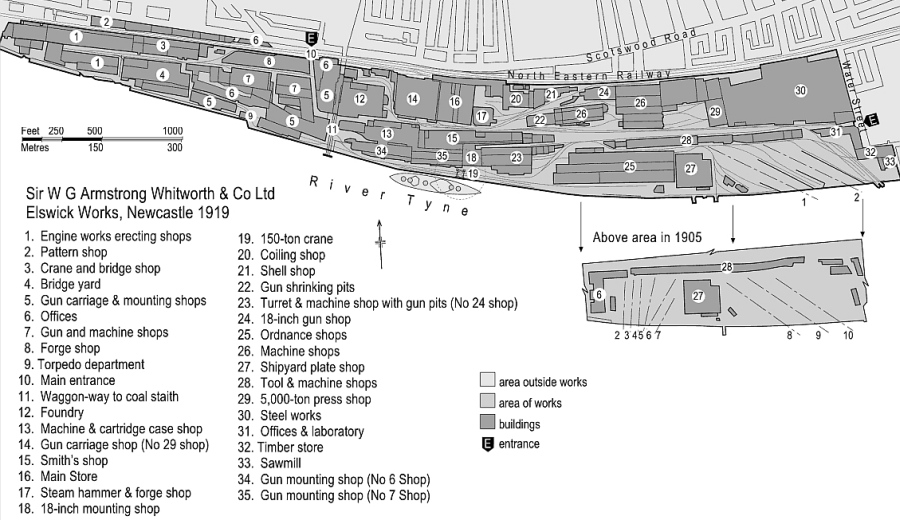 The above photo & yard plan of about 1884 shows the location of the Armstrong Mitchell Elswick yard. Water Street at the right of the map still exists today and the area of the shipyard and Steel Works is now occupied by the Newcastle Business Park.
The map and photo are courtesy of "Down Elswick Slipways" by Dick Keys & Ken Smith.

In 1847, engineer William George Armstrong founded the Elswick works at Newcastle, to produce hydraulic machinery, cranes and bridges. This was soon to be followed by artillery, notably the Armstrong breech-loading gun, which re-equipped the British Army after the Crimean War. In 1882 the company merged with the shipbuilding firm of Charles Mitchell to form Armstrong, Mitchell & Company.

The new company decided to build a new shipyard specialising in warship production, next to the armaments works at Elwick. This had not been possible to consider until 1876 when the new swing bridge at Newcastle replaced the low multi arch bridge that had stood since Georgean times. The new shipyard was built at the same time as the first ship from the yard, the PANTHER for the Austro-Hungarian Navy. With the completion of the yard, the works extended for over a mile along the north bank of the River Tyne.

Armstrong Mitchell merged again with the engineering firm of Joseph Whitworth in 1897, forming Armstrong, Whitworth & Co.

The following ships were built at the Armstrong Mitchell Elswick yard.