---
TYNE BUILT SHIPS
A history of Tyne shipbuilders and the ships that they built
Shipbuilder: Andrew Leslie, Hebburn - People
Andrew Leslie was born at Garth in Shetland in 1819, the son of a crofter. He was the youngest of three children and was only 6 weeks old when his parents were evicted from their home. Andrew's father found employment on the coastal ships of Aberdeen and eventually Andrew served an apprenticeship with boilermakers John Vernon & Co. He took over the business himself when his employer died in 1843. He then ran the firm successfully for 10 years, branching out into shipbuilding as well, but he needed to expand and this was difficult in Aberdeen. So in 1853 he moved to Tyneside with capital of £198 to start a new shipbuilding business on the green fields of Hebburn. As sole proprietor of Hebburn Shipyard, he laid the foundations of a shrewdly-run firm that became highly respected name in shipbuilding and marine engineering.

Leslie recruited many workers from North East Scotland, many to found long-serving families and earn Hebburn Quay the nickname of 'Little Aberdeen.' The need for a Presbyterian church was keenly felt in the community and Andrew Leslie answered the call by funding the erection of St Andrew's Church in 1873. He spent £9,000 so that it would have the highest steeple of any non-conformist church in the area, giving rise to the nick-name the 'Presbyterian Cathedral'. This largely self-contained community had 400 Leslie-built houses near the yard, and they in turn made a large contribution to the erection of Institute / Schools next to St Andrew's.

Andrew Leslie retired in 1884 and died peacefully at his home Coxlodge Hall in Gosforth in 1894. His funeral procession to Newcastle Central Station was a huge affair with hundreds of his old foremen and workers walking the four miles en route, to see him 'awa hame' on a special train to Edinburgh, for burial at the family plot in Leith Cemetery.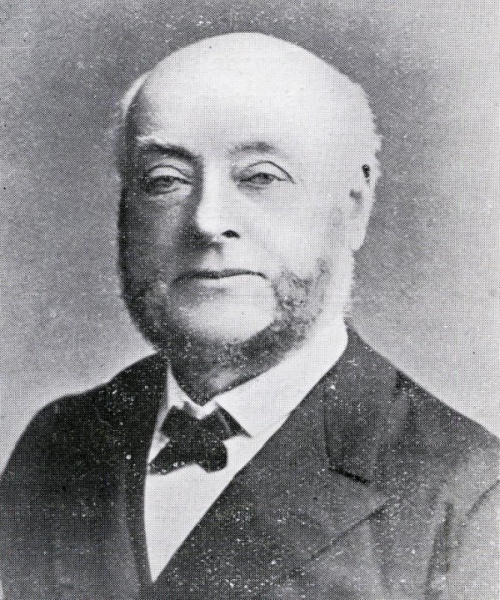 Andrew Leslie, prominent Hebburn shipbuilder

Shields Daily News, Tuesday, 15/05/1894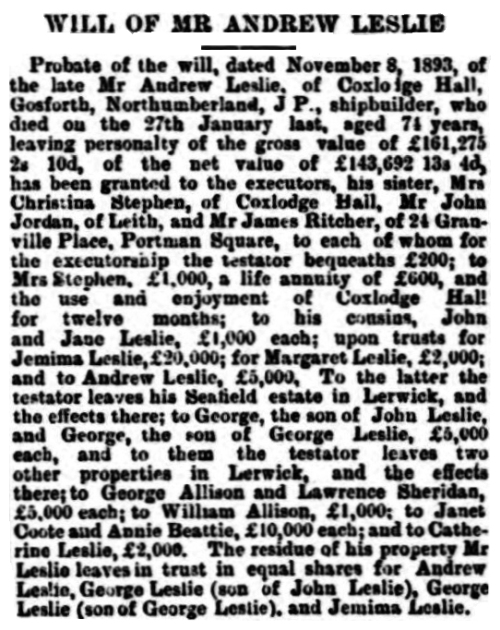 Shields Daily News, Tuesday, 15/05/1894